Artist: Drew Struzan ~ The Goonies
$

1,500.00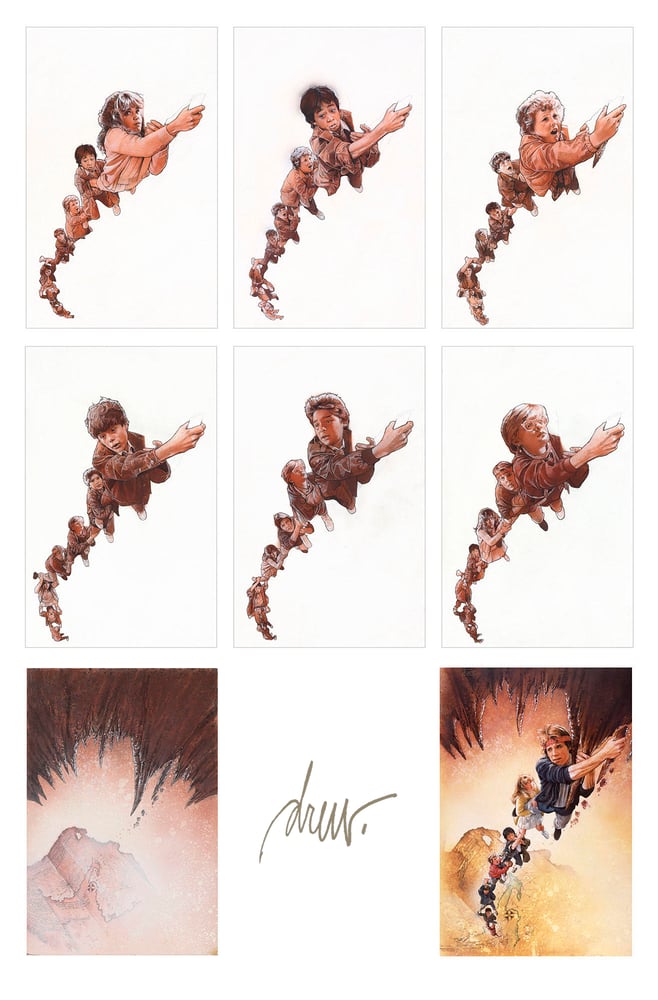 Film: The Goonies
Title: The Goonies Amblin 35 Art Tribute Comp Montage Giclee by Drew Struzan
Measures: 27" wide x 41" high
Shipping: PENDING
Description: An Amblin 35 Art Tribute Show - The Goonies "Comp" montage giclee hand-signed by Drew Struzan.
This rarely seen illustrative montage (the original of which is currently on display in the Creature Features Gallery during the Amblin 35 Tribute Art Show) rendered by the legendary Drew Struzan, depicts the brilliant creative process involved in Drew's designing and painting of the memorable 'A' style one-sheet movie poster art for the cult classic motion picture "The Goonies.
The montage consists of hand-painted illustrations of key elements used in the painting such as the cave environment, as well as studies used during the making of the poster art featuring alternative placements of the young lead actors seen in the film, who portrayed The Goonies, desperately hanging on to a cave stalactite.
Early artwork studies such as this one are known as a "comp" (from the word composition) in studio advertising, marketing & promotion. The variations on the order of the actors featured in this piece were rendered in the fashion as shown, so that Amblin Entertainment and Warner Bros. Studios could have a selection to chose from, for the final design of the movie poster.
Eventually, the version featuring a then very young, but stalwart Josh Brolin was selected, to be placed at the top of the image, and the rest is history.
Drew's memorable signature is featured printed on the lower middle portion of the edition.
The piece is also hand-signed by Drew. A wonderful keepsake commemorative open-edition produced exclusively for the Amblin 35 Art Tribute Show featuring Drew Struzan.